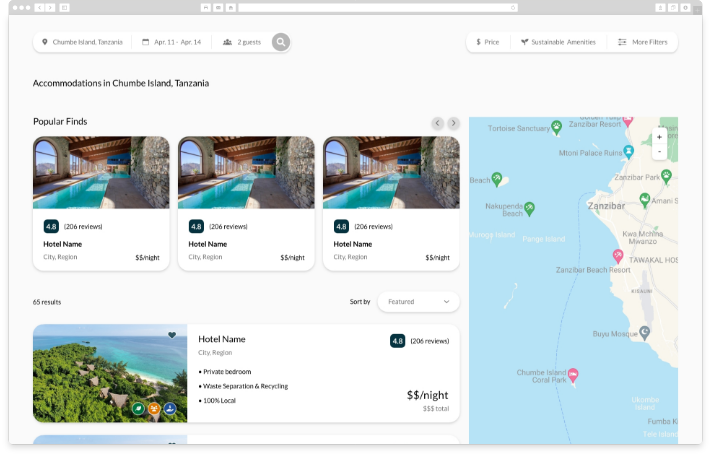 Design of a Sustainable Traveler's flow to book an accomodation
for a Sustainable Travel Marketplace
Scope: User Research, User Testing, Prototyping
6 Weeks 
Client Overview
Ecomadic helps travellers find sustainable accommodations in their desire destination. Ecomadic connects small businesses who practice sustainability in different levels with users looking for an authentic travel experience.
Goal
Create an intuitive way for millennial travelers to search, filter, learn about and book authentic Eco-friendly sustainable accommodations and experiences, and communicate with Local Businesses. 
Role: Product Designer
In a team of 3, I worked as the project manager organizing weekly meetings and defining the project objectives and deadlines. I communicated with the client to understand the company's vision, objectives, users and limitations regarding the ongoing project. I delivered a competitive analysis during the research phase, conducted user testing, and defined a user persona to the project. I created a styleguide for the marketplace and designed the wireframes and prototypes according to the established user flow.
Team
Carla Orellana: UX Project Lead
Michelle Clayborne: UX Researcher
Jason Lai: UX/UI Designer
Problem

Millenial travelers are looking for ways to have authentic travel experiences while being sustainable, however they struggle finding authentic information that connects them with sustainable businesses.
How might we…
Design a

clear and intuitive

business page in order for millennial travelers to

book and communicate

with their
eco-friendly accommodation of choice.
Competitive Analysis
I performed this analysis with the purpose of getting to know the sustainable travel industry, important things to consider were: The business page, the ways of booking (within the site or with the business) and their messaging system (if any).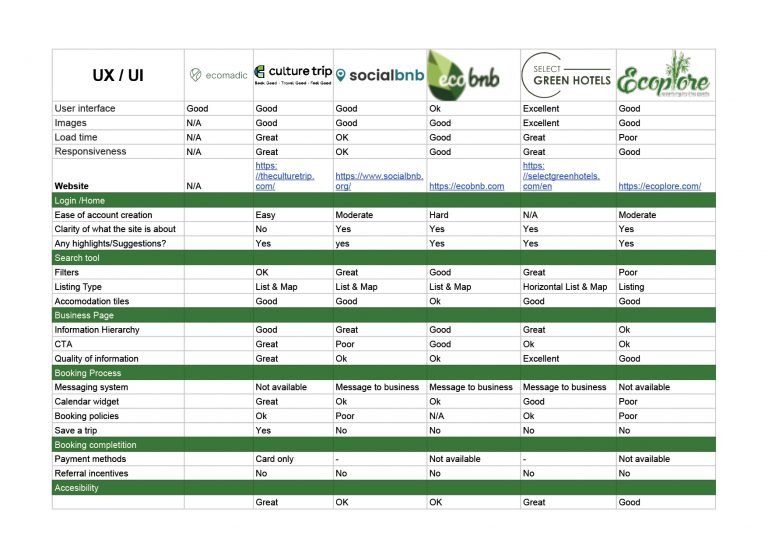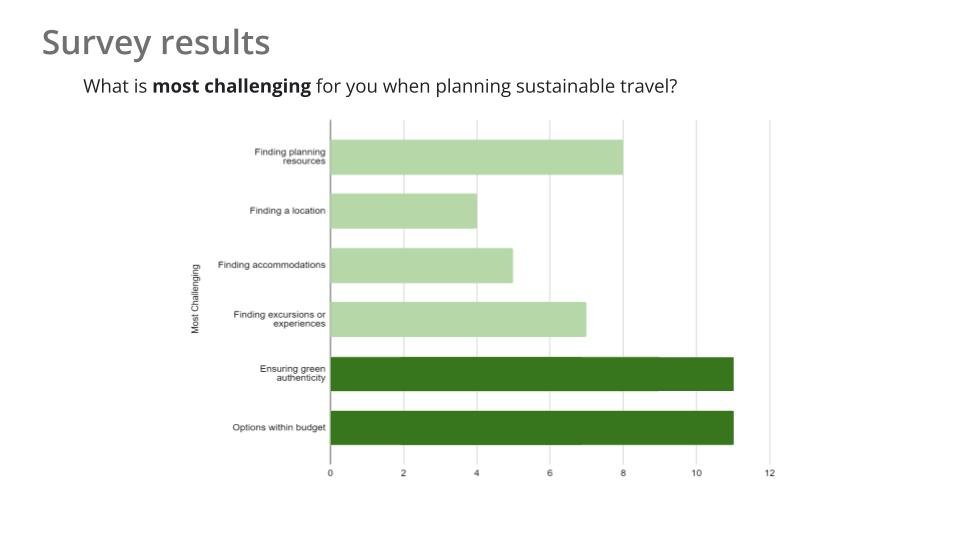 Survey
The survey was a great way to start to know more about users and their travel preferences.
One of the most important questions was what the travelers found most challenging when planning a sustainable travel. The top answers for this question where:
1. Ensuring green authenticity 
2. Options with budget
RESEARCH FINDINGS & PROPOSED SOLUTIONS
#1. Users find it challenging to ensure green authenticity of accommodations
Sustainability criteria would be attributed to each business depending on their kind of sustainable practice. Small badges would be display within the accomodation listing and business page.
#2. Users want the option to communicate with the business before booking as well as after
A conversation thread would be created as soon as travellers start messaging the accommodation.
#3. Users want authentic experiences where they can experience the local community
Activity suggestions section can be included within the business page.
#4. Users want to find options within their budget
A price filter would be available to sort accommodation within a range.
USABILITY TESTINGS
User testings were conducted mostly with millenials who travel often and who consider sustainability as an important factor before booking, some of them were also learning about what sustainability is. We had two main tasks possibles: 
1. To message the business: We wanted to know what triggers travelers to message a business before booking, and if there's any further information that's not being provided by the business page.
2. To book the accommodation: It was important to understand if users felt ready or not (and why) to book an accommodation.
USABILITY TESTINGS FINDINGS
Sorting by price: preferred sort option by users.
Some confusion around sustainability terms and authenticity:

It is important to have

clear descriptions and

g

ive information around

how businesses are verified by Ecomadic.

Resistance to creating an account when booking:

At least half of the users found

inconvenient to have to log in or create an account to be able to book.
FINAL DESIGN
ECOMADIC'S BOOKING AND MESSAGING FLOW
Listing Page
Travelers could start narrowing down their search by clicking and playing with the upper-right filters: Sustainability amenities help them check accommodation according to their sustainable practice, which is also displayed on the accommodation tile as a badge.

Business Page
Information from businesses is collected and displayed here. Also we wanted to add deeper explanation on what the business focus sustainability is in the section "Sustainable Features".